Review of Microsoft Windows XP Professional (48.5% Complete)
The Past
Here I am in front of my good ol' computer, comprising of a Pentium II 300, 256MB RAM, 20GB IBM Hard Disk, ASUS P2B, Sound Blaster AWE64, Realtek RS8029 NIC and a 3dfx Voodoo3 3000. Oh, and a 32X Sony CD-ROM. Do I need to mention the floppy drive and other necessities?
Running Windows Millennium Edition, the system has begun to give problems such as hanging on the shut down screen, freezing at times and the impossibility of going to Stand By mode, where if I resume from the stand by mode, the system will freeze every 2 seconds.
The Starting Point . . .
Even with it's system requirements of a Pentium II 233, 128MB RAM, 1.5GB Space plus the necessities such as the CD-ROM and sound card, Windows XP stood out among the rest in some cases, and a disappointment in other cases.
When I first got Windows XP, I was intending to install it in my hard disk which already has Windows ME. After going through backups and deleting windows, I discovered that running the SETUP.EXE in the Windows XP CD gave a shocking message "This program cannot be run in DOS Mode". As I didn't have access to the web, I installed Windows Millennium Edition back and installed XP (using the New Installation option and my current drive) over it, hoping it has the intelligence to remove WinME completely. To my horror, WinXP Setup created a Windows.0 folder (even though I specified C:\WINDOWS) and installed the files to it! Maybe I was stupid

. There were some information online as I discovered later, which enabled me to install a new copy, thanks to Google.
First, the Setup program. I did a clean install, if you want to know how I did that, you can check here - Installing Windows XP From DOS. Windows XP didn't allow me to customise which accessories to install. Rather, it installed all the things I'll never use. Windows Movie Maker, Windows Messenger, MSN Explorer and Remote Assistance (not that I will need it, hehe). The Setup program went smoothly, restarting my computer about 3 times. At some points, it will request Regional Data (like time, data format) and network information, instead of asking all these in the beginning. This requires you to be near the PC during setup.
After installation, Windows XP started up with the beautiful Luna interface. Here is the full blown Windows XP screenshot with the new interface enabled (this is taken weeks after the installation):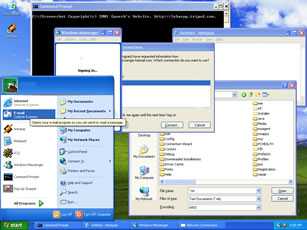 What this Windows XP Interface Screenshot has:
New interface, icons and start menu.
Notepad, Windows Messenger, Command Prompt and the Notepad Open Dialogue window
Behind Windows messenger, you see the Network Connections window. Since I have 4 ISPs (yep, four), and Windows Messenger is attempting to connect to the server, this window allows you to choose your connection. Same as Windows ME dial-up window.
Mouse pointers can have shadows and many other visual enhancements you can disable all these visual addons to speed up your PC.
View the screen shot in its actual size in 1024 x 768(158 KB), for privacy reasons, the name beside the icon in the start menu is not shown.
The first thing that you will notice upon booting Windows XP is the XP version of the bootup screen. It's cooler, with a black background and the words "Microsoft Windows XP Professional" with a small blue(green for Home Edition) bar near the centre that goes like Windows 2000 animation. Bootup speed was normal.
Upon launching the GUI, the desktop was sky blue with the word Welcome. Seconds later, I am in my desktop.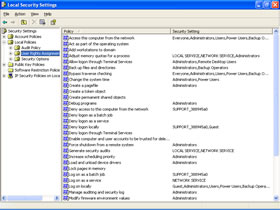 Windows XP's key advantage is the management of multiple users. An administrator, that is, the person who has full access to the computer can create accounts and set certain rights to it. Similar to Windows 2000 network management, but in this case, it is your computer that is the network. A user with a account can customize his Start Menu, Desktop icons and has his own folders for Cookie storage, Temporary Internet Files, Temporary Files, Favourites, History and even his own Outlook Express storage area. Users can set files to be non-viewable by other users (I'm not sure whether Administrators can access private files). Users can also be granted rights, in Local Security Options. Here, you can set password minimum and maximum age, password length, complexity requriements, password encryption, the ability to shut down the system, set a message text for users attempting to log on and much much more.
If you have multiple users, the welcome screen will show the user image and their userid. A person just has to click on the id, enter his/her password and his personal desktop can be accessed.
Windows XP comes with built-in ZIP support. Clicking a folder in Explorer will expand to include zip files as folders. Clicking one of the "folders", you can view, add and extract files from the archive.
Unfortunately, some programs will not install without administrator rights. Worse, some programs will not even run, even if they were installed by an administrators.
Features that bring it to the front
System Restore, now, that is a good feature many people would like to use. Microsoft's definition: "In the event of a system problem, you can restore your computer to a previous state without losing your personal data files (such as documents, Internet favorites, and your e-mail). System Restore monitors changes to your computer, and periodically makes easily identifiable restore points. These restore points allow you to revert your system back to a previous state. You can also create and name your own restore points at any time." I didn't use this, as I don't use it that often.
For LCD monitors, XP comes with what is calls ClearTypeTM technology. Supposedly it improves font resolution and I've met people who liked this technology. However, take note that it will bring no improvement to CRT monitors. When I enabled this for my CRT monitor, all text appeared slightly blurry, enough to hurt my eyes

. Keep in mind that this only affects text, and will not enhance LCD quality of images or other non-text stuff. But it will sure make your Internet browsing better.
Windows XP also allows someone to remote control your PC, similar to pcAnywhere by Symantec. This is great if you need to friend to give you technical support. In this case, it allows you to set whether he can control your mouse and/or keyboard.
If you're a Internet Explorer fan, you'll be pleased to know it comes with version 6, the current latest version. However, there are many serious bugs in IE 5.5 to IE 6 that Microsoft has resolved in its WindowsUpdate.com website.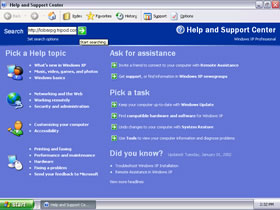 The help system in Windows XP includes much more information that the previous Win9x's OS's. Information on partitioning, FAT32, NTFS, defragging and other stuff can be found.
Speaking of NTFS, Windows XP supports NTFS and it is highly recommended you upgrade to NTFS unless you have set up dual OS's. Windows NT and 2000 only support NTFS. If you convert your drive to a NTFS, it will not be accessible by unsupported OS's. NTFS offers compression on selected folders and/or files and more free disk space as the minimum cluster size is only 0.5kb, while FAT32 is 4kb.
If you have a CD Writer, you'll be glad to know that Windows XP supports CD Writing. It is in some ways restricted, such as not being able to verify if data is written. Don't hope for it to be as full blown as Nero. First you have to select files to write, and then issue a command to start writing the CD.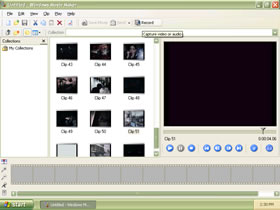 Finally Windows XP comes with all the usual accessories, Windows Movie Maker, Narrator (only includes a Male Voice called Microsoft Sam that reads out text at the mouse pointer), Windows Media Player 8, Fax support, Internet Connection Sharing (if you want to share the internet connections among your computers in the network), Internet Firewall (blocks hacking attempts - great if you have a always-on connection), Network Bridge (Microsoft's definition: "The network bridge simplifies the setup and configuration of small networks that consist of different types of network adapters, such as wireless, Ethernet, and home phoneline network adapters (HPNA). The network bridge creates a software connection to link the different types of adapters together. There is no need for special equipment that would normally be required for communication between different types of network adapters. Only one bridge may exist on a computer, but it may be used with as many different types of network adapters as the computer can physically accommodate.") and Error Reporting (which sends error reports to Microsoft when it occurs).
Stability
Stability is the main issue when you plan to get an OS. In my time with Windows XP, I've never seen the Blue Screen of Death (also referred to as BSOD) even once. Win9x (including ME) has not given me this kind of treatment before, and it is that stable.
In Windows 9x, if I used my PC continuously for more than 3 hours, Win9x will definitely hang at shut down, which is why I had to make it a point to restart my PC every 1.5 hours. In Windows XP, that is not the case, and I'm very pleased about the minor convenience.
Bootup and Shutdown timings
Starting Windows XP was relatively fast, I wasn't able to time it, but it varies among different computers. Mine starts up within 1.5 minutes. Shutdown however, takes longer than previous Windows OSs. Cool thing is, the status is displayed. For example(in my case), it first said "Closing Network Connections", then "Saving Settings" and finally "Shutting down Windows".
The "other" side
Getting used to XP takes some time. First, I discovered that my external modem has to be switched on when Windows XP boots up or else Windows XP will report a "Port not responding" error if I attempt to use the modem. This could be due to the Telephone services not running, but even starting them fails. So, whenever I had to use the Internet, my modem has to be switched on during bootup. It can be switched off after bootup. Call me a power saver.
Months after release, 18 Megabytes of patches are filling up Windowsupdate.com. However, not all will apply to you, for example, the Windows Movie Maker patch is not needed if you don't use it.
The End
Errors? Omissions? Need Help? Know something? Post your queries in the Windows XP Discussion Forum.
This document is Copyright(©) 2001,2002 by G.Ganesh. No parts may be reproduced in any other sites or pages as outlined to Terms Of Usage. Feel free to link to this page from your website but do not host it over there. Visit Ganesh's Website (http://www.bootstrike.com).
Last Updated 5th Janurary 2002